Collection:

My Kajabi Review 2022 | 30-Day Free Trial Available

Disclosure: CreativeBooster is an independent review website saving you time and money with quick and on point reviews. We may earn commissions if you buy through links on our site.

Reviews > Best Online Course Platforms > Kajabi Review

Reviewer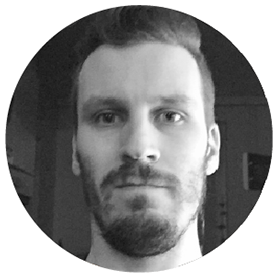 Mats-Peter Forss
I consider myself some sort of digital product expert. I have created multiple best-selling digital products (vectors, fonts, and logo templates). I'm the founder of a creative marketplace crella.net where people earn by selling their digital products. I also like to review software products on Creativebooster.
Kajabi Review - My Thoughts
Kajabi is a premium, all-in-one online course platform to sell courses, webinars, and podcasts (Free trial, premium starts at $119/mo).
Are you looking to find if Kajabi could be your choice to build your online course in 2022? In this review, I will go through the most fundamental aspects of Kajabi and help you to see if it's one of the best online course platforms.
If you're in a hurry to test out Kajabi yourself, you can get an extended 30-day free trial through our partner link:
In this article, you'll find all the reasons you should use Kajabi! You'll find that I have gone through the best features, pricing, and reviews from trusted sources. I want to save your time and help you decide what platform will work for your course creation needs.
E-Learning and online courses are the future of learning and the whole market is predicted to reach $325 billion by 2025.
Kajabi is not a small fish in this pond and has raised $550 million in funding.
I hope this review is helpful to you. You can find more information below if you're interested in signing up for Kajabi or learning about any of their specific features.
My score on Kajabi
Kajabi is an online course platform that includes everything you need to create, sell and deliver your online course. With Kajabi, you can build a custom website for the course with a simple interface. Give a try to the trial version and see what it can offer you.
When reviewing Kajabi, I've taken these aspects below into consideration:
Software flexibility
Company reputation
User interface
Pricing
Customer communication
3rd party customer reviews
What other reviewers say
Kajabi Overview. What is Kajabi?
Kajabi is quite different compared to other online course platforms as it's more of an all-in-one platform. On top of their online course software, they pack everything up with the possibility to create podcasts, webinars, landing pages, and much more! Perfect for online entrepreneurs. It allows you to create an online business and grow it with ease.
No need to start online courses from scratch as Kajabi smooths out the entire process of starting the whole business and allows you to focus on the important stuff, like making an amazing product. Kajabi CEO Ahad Khan says that Kajabi helps serious business owners get unstuck and just keep going.
Kajabi has been around since 2010 and has empowered over 50,000 knowledge entrepreneurs to serve over 60 million students worldwide. Kajabi's customers have made over $3.5 billion in combined sales.
Kajabi Pricing - How Much is Kajabi?
Kajabi is different from other course platforms because its pricing structure isn't created to fit every creator. It's notably higher than other online course platforms like Thinkific and Teachable.
If you want to monetize learning for your small company or teach to mass audiences without a second thought about the pricing, Kajabi pricing plans have a model that gets your business far. They got exceptional marketing tools to create sales funnels that help to sell online courses.
Kajabi pricing starts from $119/month (basic plan on annual payment). All of their plans include unlimited landing pages, unlimited email marketing, Kajabi University, and Webinars & Events. There are also no extra fees on top of the price as all plans come with a 0% transaction fee offer.
Kajabi has also taken good care of customer support as Kajabi's all plans include free chat support. For growth and pro plans the chat support is available 24/7. That's pretty amazing!
If you want to take a look at the Kajabi platform to see if their all-in-one platform is better than the basic online course creators, you can test all of their pricing plans with their 14-day free trial.
If you choose to purchase a Kajabi plan, you'll save 20% on annual commitments. You may start with a monthly plan and change to annual later when your Kajabi course finds success.
Basic ($119 - $149/month): Goog to get started with selling online courses. With this plan, you can add 3 products, 3 pipelines, and have 10,000 contacts with 1,000 active members. The basic plan also comes with automations and chat support.

Growth ($159 - $199/month): For scaling your Kajabi courses. With this plan, you can add 15 products, 15 pipelines, and have 25,000 contacts with 10,000 active members. The pro plan also comes with advanced automations and 24/7 chat support.

Pro ($319 - $399/month): For Kajabi users that have scaled their online course to the next level. With this plan, you can add 100 products, 100 pipelines, and have 100,000 contacts with 20,000 active members. The premier plan also comes with advanced automations, 24/7 chat support, and a code editor.
Kajabi Features
Kajabi offers a unique, versatile pack of tools that allows you to find your own voice and learn new skills as long as you are willing to put in the time. Compared to other tools that you can build online courses, Kajabi's approach is considerably different. It's not only about building online courses.
With Kajabi, you can build an online course, community, coaching business, podcast, training, masterclass, or even a blog. They have an easy-to-use website builder, great sales and marketing tools, and if you get stuck with anything, on top of their amazing customer support, Kajabi University will teach you pretty much anything from basic features to selling online courses.
I could stuff this Kajabi review with all kinds of tutorials, but as their university is already full of super helpful video lessons, I think it's easier if you start a free trial on Kajabi, and then you can access those university tutorials for free as long as you have an active Kajabi plan.
This is what you can build with Kajabi:
Kajabi University - What is it?
Kajabi University is a massive tutorial website where Kajabi hosts video tutorials on how to use their software. For example, tutorial topics include:
Build a website

Run your whole business using Kajabi

How to run a successful blog

Build a course

Build a membership site & community

Webinar basics
It's super-easy to start selling online courses or create any type of Kajabi site, because of their endless source of tutorials. It comes with all of their plans and will teach you a bunch of cool things. You can also access it with Kajabi's free trial. This way you have all the sources available before you commit to becoming a Kajabi subscriber.
You can access the university here: https://university.mykajabi.com/
Kajabi Demo
Kajabi has done a great job providing a very throughout demo video of their platform. This really helps you to get a quick view of how their software performs and how the user interface looks.
Click the image below to access the Kajabi demo or go here: https://kajabi.com/demo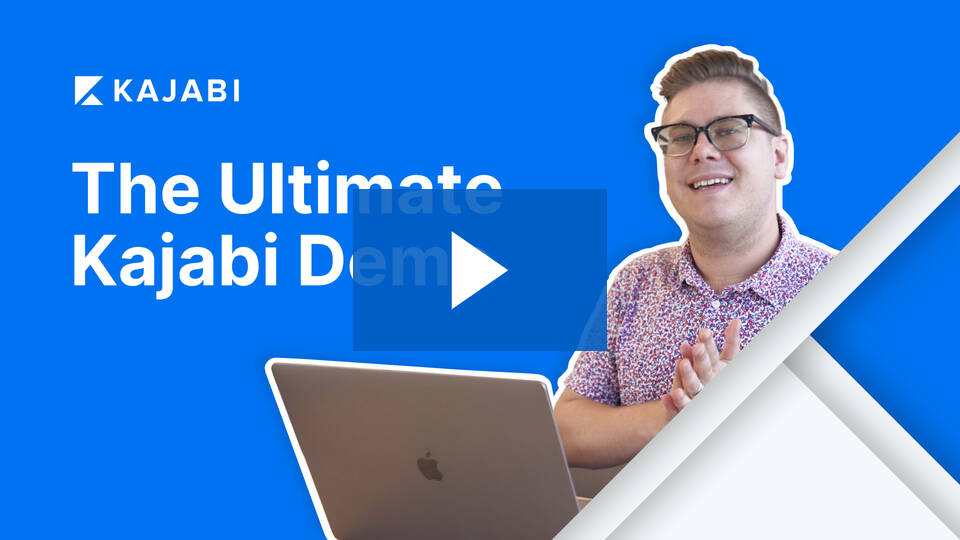 Kajabi Pros and Cons - Kajabi Review
Let's go through the pros and cons of Kajabi. Kajabi has an impressive, industry-leading set of features that I've yet to find anything bad to say about it. To put things into perspective, my con list is extremely short and mostly covers the basics.
Kajabi users are spoiled with so many features that many other online course platforms will have a hard time competing with them. They also take great care of their users by offering Live Chat customer support.
Kajabi Pros
Endless possibilities, build your whole online business with Kajabi.

Create online courses, masterclasses, podcasts, webinars, or even run a blog with their handy tools.

Quickly learn the basics and more with Kajabi University.

Create professional funnels with Kajabi's sales pipeline builder.

Zero transaction fees! On top of their paid plans, Kajabi will not take an extra percentage of your sales. Keep your hard-earned money.

Stunning free website themes. Create a superb user experience in no time with Kajabi's website themes.

Live Chat for paid plans.

14-day free trial (through my link 30 days!). Cancel at any time before the first payment date and you won't get charged.

Massive help center. Kajabi hosts webinars and has a huge help center full of articles like how to create an online course and how to launch a podcast with Kajabi.
Kajabi Cons
Compared to other online course platforms, it's on the pricier side. You'll get a lot of tools though, but you need to have a strong business to support the price.

Even though Kajabi has multiple helpful resources and email marketing tools, you'll still have to bring your own traffic to your course.

I couldn't find phone support on their website. You can contact them either on their help center or with Live Chat when you have an active plan.
Kajabi Coupon Code - 30-Day Free Trial, Save 20% on Annual Plans
I searched the big part of the internet to find a coupon code for Kajabi and I was able to find one! It seems that they don't have coupon code fields on their payment page, but directly clicking my coupon code link, you'll get a 30-day free trial! The free trial automatically chooses the basic plan, but you may upgrade at any time.
Also, taking a close look at their pricing, they offer 20% off on all annually paid plans.
What do people say about Kajabi? - Kajabi Reviews
In my opinion, you should always try to find what other people say about a product before buying it. There are a few reputable platforms where users can write reviews that highlight what they like and dislike. I mainly trust Trustpilot, G2, and Capterra.
These review websites have been in the review game for ages and know that both, positive and negative reviews are important. They allow customers to see the product from all angles before they make a purchase decision. I've picked a few reviews from them that you might be interested in, but feel free to read the reviews on these review sites.
Generally, if a software product has an overall rating of 4 or higher and it has a lot of positive reviews on these platforms, I'd say it's a really great product.
5 out of 5.
Elissa Miskey on
"Kajabi is so easy to use and has wonderful customer support. They are so helpful."
5 out of 5.
Britney J on
"It's done a lot of the work and thought for me. Every time I realize I need to add something to my business, I look it up in Kajabi and they already have a template or a built-in. Love it!"
5 out of 5.
Tiarra M on
"I love Kajabi overall. On the expensive side but it's literally an all-in-one platform."
Best Kajabi Review Video
Who doesn't love a good video review? When I'm about to purchase a product, I tend to lean pretty much 50/50 on review articles and review videos. I think they both support each other and give a clearer vision of the product. It's also nice to see someone with their own voice explaining things.
Going through some of the most popular Kajabi Review videos, I ended up liking Graham Cochrane's "What Is Kajabi? (Everything You Need To Know)" the most. He goes through Kajabi's software throughout and his voice is really easy to listen to.
In his Kajabi review, Graham goes through these topics:
Creating a website with Kajabi

Selling various products with Kajabi

Create podcasts with Kajabi

Coaching products with Kajabi

Add offers & coupons with Kajabi

Email marketing with Kajabi

Pipelines in Kajabi

...and many more :)
Watch the video below and if you find it useful, please subscribe to Graham Cochrane's YouTube channel for more online course business videos.
What Is Kajabi? 2022 Review (Everything You Need To Know)
Frequently Asked Questions
What is Kajabi best for?
Kajabi is best for creating a complete online business under one all-in-one platform. You can create course products, podcasts, websites, blogs, masterclasses, and even marketing funnels.
Are Kajabi Websites good?
Kajabi's outstandingly easy-to-use website builder keeps your website clean from funky code errors. With their free website themes, your website will instantly look professional and save hours of work. Hosting your website is also included in their plans.
Is Kajabi legit?
Yes, Kajabi is a fully legitimate company with 100,000 businesses built on its platform. They have high trust scores in Trustpilot, G2, and Capterra. Kajabi has been launched in 2010 and currently has multiple job openings.
Is Kajabi worth it?
Absolutely! If you run a successful online business, Kajabi's pricing wont be an issue and you'll get all the tools you need to run a professional online business.
Who uses Kajabi?
There are plenty of big names using Kajabi. For example,
Check out the full list of websites built with Kajabi.
Can I see Kajabi examples?
Yes, of course! Kajabi has a blog post dedicated to 6 Examples of Kajabi Courses To Inspire You.
How much does Kajabi cost?
Kajabi's pricing comes in three tiers: Basic ($119 - $149/month), Growth ($159 - $199/month) and Pro ($319 - $399/month). Use our Kajabi coupon code and get a 30-day free trial! You'll also save 20% when you pay annually.
How can I contact Kajabi?
You can contact them either via their help center or when you have an active plan, you use their Live Chat function.
Is Kajabi good for selling online courses?
Although Kajabi is an all-in-one platform of many tools, it's still definitely one of the best for selling any kind of course from coaching to teaching.
How can I quickly learn to create an online course with Kajabi?
Kajabi, as you may have guessed, is all about offering a stack of business tools to host your whole brand on their software. It may first be hard to see how to create an online course. Fortunately, Kajabi has tons of informative articles, lots o how-to videos, and advice on course creation. Here's their easy-to-follow tutorial on how to create a course product: https://help.kajabi.com/hc/en-us/articles/360037137594-How-to-Create-a-Course-Product
Where is Kajabi located?
Kajabi's headquarters is in Irvine, California.
How many employees does Kajabi have?
Kajabi has over 100 employees.
Kajabi Alternatives - Better for Online Courses?
Kajabi is one of the most popular platforms to create online courses and is used by many big names. However, it's not the only option out there and if you want to get more in-depth information on the best online course platforms, I recommend checking out these Kajabi alternatives:
Here are two of the most popular course-selling marketplaces you may want to know about if you're not yet interested in promoting your own course. Check out these other platforms:
Conclusion - Kajabi Review
Okay guys, that's it for the Kajabi review! I hope you now have a clear view of Kajabi and whether is the course creation platform for your business.
Kajabi offers top-notch premium software that ables you to build your whole online business on top of it. It's great for course creation, but you can also build high-level landing pages and marketing funnels. They also include neat email marketing tools with their plans.
Just for a quick wrap, the best features of Kajabi are that you can start for free, they have a great variety of tools, a neat help center, 0% transaction fees, and the ability to use their University to learn about creating products and building marketing campaigns.
Best Other Kajabi Reviews
One more thing! I have also added some of the best Kajabi reviews here from other great sources. If you still need a more depth look on Kajabi and you're not sure of where to find the best reviews, these can be a good place to start.
These reviews make me believe that they are the people who know what they're talking about and could help you with their experience on the Kajabi platform. I recommend that you read them to strengthen your decision on whether to go ahead with Kajabi.
Geoff Cudd runs his own review website DDIY (Don't do it yourself) where he small business tools for customers so that they don't have to. According to his website, Geoff takes a cynical look at every tool he reviews.
In this review, Geoff takes a throughout look at multiple aspects of Kajabi. He has a clear table of contents and links to supporting articles! This article is around 2,000 words long. Here are the main features of this review:
SupplyGem is a review website that shows the best platforms, reviews software products, and does comparisons. It was co-founded back in 2018 by Samuel Fletcher and Noel Griffith. They want to provide tips that you can truly trust. These guys are online business masters with more than twenty years of experience under their combined belt. 
This article by SupplyGem is a throughout look at Kajabi and is over 2,700 words long and is frequently updated. Here are the main points that this article considers: